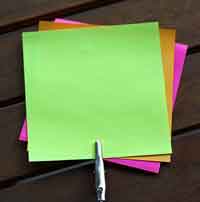 When the phones are ringing with consumers who want services, and you're so busy you can't take on another new client, how do you protect your company's reputation? If you can't take all of those calls, it's a good idea to state in your outgoing greeting and on your web site that you are not currently accepting new jobs.
Transparency was a buzz word a few years ago. Now it is vital to business success. Technology has given us the tools to be connected to the world all the time. There are on-demand services that let you shop, eat, and travel as you please on a moment's notice. Apps can help you get a ride, have dinner delivered, even have your lawn mown. Whether you like it or not, consumers expect service businesses to be available at all times.
You might think that simply not responding to an inquiry lets the consumer know that you are unavailable. But if you are one of several businesses who are too busy to respond, the caller can become frustrated and may take their frustrations out on your online reputation.
Yelp has plenty of landscape companies with two-star review averages. Those companies might provide quality service, but callers who get no response can bring down the review average of an otherwise quality business with their one-star review.
On Facebook, your business page is monitored by the site. If you receive messages from Facebook users, the turnaround of your response is critical to your Page's reputation. Facebook displays your average response rate on your Page, which can influence consumer opinions of your business.
Recently, Houzz.com took a cue from Facebook and is now tracking response rates by Pros on the site. Failure to respond to inquiries in a timely manner—the standard is to respond within 24 hours—will affect your business's rank in the Houzz directory. But don't fear—if you increase your response rate today, your rank will improve, and the previous response rate will not weigh as heavily in your rank.
The takeaway? Respond to consumer inquiries. Taking just a few moments to say, "I apologize, but I am unable to accept new projects at this time," can go a long way to preserving your reputation. Another helpful tip: Using notifications from these sites can help you monitor inquiries so that you can respond quickly.
Read more in this issue of Colorado Green NOW:
A reminder to use your leaf blowers responsibly and safely
Compliance can be tricky with tree and shrub work
Learn to "mow down pollution" with alternative fuels
Making sense of backflow prevention rules