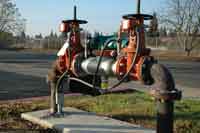 The issue of installation, repair, and maintenance of backflow preventers can be a challenge for Colorado landscape companies. Unfortunately, there is no law or regulation which states explicitly that a landscape irrigation technician may perform these duties. Statutes are, at times, vague regarding whether a licensed plumber is required to complete the work.
Colorado representatives from the International Association of Plumbing and Mechanical Officials offered some clarification of when or where a plumber is required for backflow prevention work:
The state's plumbing board defines its jurisdiction as piping systems within five feet of the foundation. Local building officials may claim their jurisdiction beyond the five-feet limit. This is important, as backflow preventer installers must be 1) a licensed plumber or 2) an employee of the property owner to perform the work. Any work must comply with local codes, such as obtaining a permit for the installation.

If the irrigation system is more than five feet from the foundation, the state plumbing board determined that the piping system is no longer plumbing. As a result, non-plumbers, such as irrigation technicians, may perform the backflow preventer installation work. Once again, it is important to check with the local jurisdiction may regarding local code requirements. [See Colorado Revised Statute 12-58-102, section 5]
Additionally, the Colorado statutes regarding plumbing include the following exemptions (applicable information is excerpted below):
12-58-113. Exemptions. (1) Any person selling or dealing in plumbing materials or supplies, but not engaged in the installation, alteration, repairing, or removal of plumbing, shall not be required to employ or have a licensed plumber in charge.

(2) Nothing in this article shall be construed to require any individual to hold a license to perform plumbing work on his own property or residence, nor shall it prevent a person from employing an individual on either a full- or a part-time basis to do routine repair, maintenance, and replacement of sinks, faucets, drains, showers, tubs, toilets, and domestic appliances and equipment equipped with backflow preventers; except that, if such property or residence is intended for sale or resale by a person engaged in the business of constructing or remodeling such facilities or structures or is rental property which is occupied or is to be occupied by tenants for lodging, either transient or permanent, or is a commercial or industrial building, the owner shall be responsible for and the property shall be subject to all of the provisions of this article pertaining to licensing, unless specifically exempted therein.

(4) Persons who are engaged in the business of inspecting, testing, and repairing backflow prevention devices shall be exempt from licensure under this article, except when such persons engage in the installation and removal of such devices.

(6) (a) Nothing in this article requires a plumbing license, registration, or permit to perform:

(I) The installation, extension, alteration, or maintenance, including the related water piping and the indirect waste piping, of domestic appliances equipped with backflow preventers, including lawn sprinkling systems; residential ice makers, humidifiers, electrostatic filter washers, or water heating appliances; building heating appliances and systems; fire protection systems except for multipurpose residential fire sprinkler systems in one- and two-family dwellings and townhouses that are part of the potable water supply; air conditioning installations; process and industrial equipment and piping systems; or indirect drainage systems not a part of a sanitary sewer system;
Read the full text of the revised statute at www.lexisnexis.com/hottopics/colorado/ [Search for C.R.S. 12-58-113 (2017)].
Read more in this issue of Colorado Green NOW:
Need to improve your company's reputation? Answer your messages.
A reminder to use your leaf blowers responsibly and safely
Compliance can be tricky with tree and shrub work
Learn to "mow down pollution" with alternative fuels