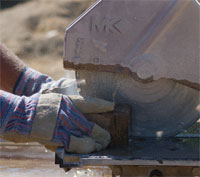 September 23, 2017, is the deadline for compliance with the Occupational Safety and Health Administration (OSHA) final rule regarding exposure to respirable crystalline silica will go into effect. The aim of the rule is to curb lung cancer, silicosis, chronic obstructive pulmonary disease and kidney disease in America's workers.
The following information is excerpted from an article to appear in the September/October 2017 issue of Colorado Green magazine. ALCC members can log in to read the entire article in the Colorado Green Magazine archives in September.
Whether you know it or not, silica dust compliance is on the doorstep of landscape companies working with soil, sand, concrete, masonry, rock, granite and other landscape materials. The dust created from moving, cutting, grinding or otherwise disturbing materials generates respirable crystalline silica (RCS)-one of the most common minerals on the planet. Sandstone, for example, is 70 to 90 percent silica and concrete, and mortar can be up to 70 percent silica. When stone or concrete are dry cut or when concrete is mixed, silica dust enters the air and unprotected workers breathe it.
When respirators are required
If respirators are required—either by Table 1 or because monitoring results demonstrate overexposures—the employers must have a written respiratory protections program that complies with OSHA standards. Implementation of the program must include the following elements:
Procedures for selecting adequate respirators for use in the workplace;

Medical evaluations of employees required to use respirators;

Fit testing procedures for tight-fitting respirators;

Procedures for proper use of respirators in routine and reasonably foreseeable emergency situations;

Procedures and schedules for cleaning, disinfecting, storing, inspecting, repairing, discarding and otherwise maintaining respirators;

Procedures to ensure adequate air quality, quantity, and flow of breathing air for atmosphere-supplying respirators;

Training of employees in the respiratory hazards to which they are potentially exposed during routine and emergency situations;

Training of employees on the proper use of respirators, including putting on and removing them, any limitations on their use, and the maintenance; and

Procedures for regularly evaluating the effectiveness of the program.
What you need to know about respirators
Respirators must have a "TC" number which means it has been "tested and certified" by the National Institute for Occupational Safety and Health (NIOSH). The TC number is displayed on protective the packaging and/or the unit itself.

Disposable units with only one strap are not tested and certified. They must have two straps to meet fit requirements.

Almost all respirators on Table 1 of the OSHA standard refer to a respirator that has an "APF" or assigned protection factor of 10. When worn correctly, they provide a 10x protection factor. For example, if the airborne concentration of dust is 100 mg/m3, this respirator would reduce the employee's exposure to 10 mg/m3 when worn correctly.
Mitchel LIttle, CIH, CIP is Principle EHS Consultant at Hellman & Associates, Inc., an ALCC associate member company specializing in outsourced OSHA regulations compliance and environmental health and safety (EHS) management services.
Read more in this issue of Colorado Green NOW:
Timberline Landscaping continues work on Manitou Incline
EAB discovered in Lafayette
Awards enhance your professional reputation
Three ALCC members placed on Inc. 5000 list