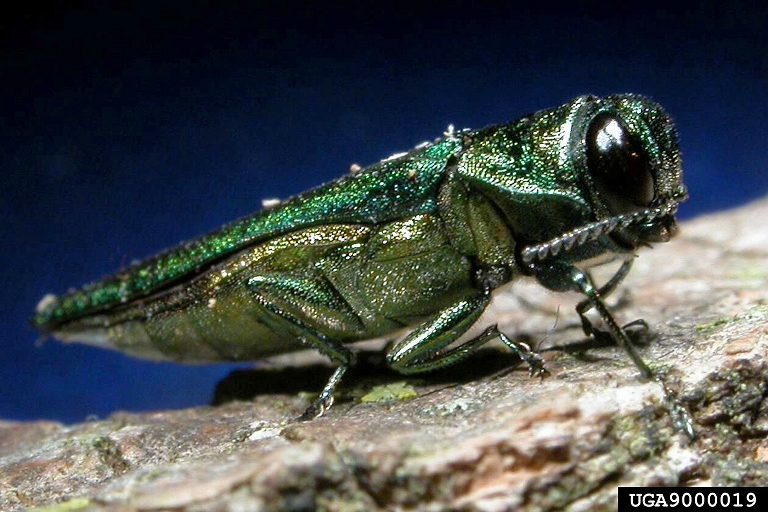 This month, the invasive tree pest emerald ash borer (EAB) was confirmed in the City of Lafayette. This detection is still within a quarantine area established to try and prevent the human-assisted spread of EAB but represents only the third confirmation of EAB anywhere in Colorado outside the City of Boulder, where the pest was first detected in 2013. EAB has also been confirmed in Gunbarrel and Longmont.
An estimated 15 percent or more of all urban and community trees in Colorado are ash species susceptible to being killed by EAB – and a majority of these trees are on private land.
It is unknown whether EAB arrived in Lafayette by natural spread or via accidental human transport, such as in firewood or other raw ash material. The pest had previously been confirmed in Gunbarrel, just to the north, and populations of the insect are capable of spreading a half-mile each year on their own.
EAB was first confirmed in Colorado in September 2013, in the City of Boulder. In November 2013, the CDA established a quarantine zone around Boulder County in an effort to protect Colorado ash trees. At this time, EAB has not been detected in Colorado outside of Boulder County or the EAB Quarantine area.
The pest is extremely difficult to detect when its numbers are low in the area. However, the CSFS and other members of the EAB Response Team continue to try and detect the pest in new locations.
"Having a new detection in this area was not unexpected, but certainly highlights the need for Front Range communities to be planning now, before EAB arrives," said Keith Wood, CSFS community forestry program manager.
For more information about ash tree identification, the symptoms of EAB and treatment options, go www.eabcolorado.com or www.csfs.colostate.edu/emerald-ash-borer.
Read more in this issue of Colorado Green NOW:
Awards enhance your professional reputation
Three ALCC members placed on Inc. 5000 list
Silica dust is a serious safety issue
Timberline Landscaping continues work on Manitou Incline