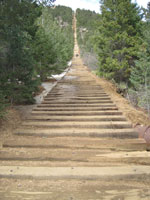 Colorado Springs-based Timberline Landscaping began work on Phase III of the Manitou Incline reconstruction this week. The Incline will be closed to the public until early December.
Timberline, which is celebrating its 35th year in business in Colorado Springs, also completed phases I and II of the project and is eager to complete the work on the popular trail.
Phase III will focus on the top portion of the trail, beginning at tie number 2,137 (the False Summit). Damaged ties will be replaced, a cabling system will be installed along all ties to prevent future movement and retaining walls, rock dams and water chases will aid in preventing erosion. Timberline will be utilizing a helicopter to aid in the transport of materials to this section of the trail, which has an elevation increase of approximately 500 vertical feet.
Timberline Landscaping completed Phase I of the reconstruction in 2014 and Phase II in 2016. Both phases focused on erosion control. In Phase I, Timberline constructed 39 retaining walls to ensure the Incline could withstand generations of use. In 2015 Timberline Landscaping won the National Association of Landscape Professionals' Grand Award for Erosion Control and Ecological Restoration for Phase I of the Manitou Incline reconstruction.
Timberline Landscaping was honored by the National Association of Landscape Professionals for having the most Landscape Industry Certified team members on a single staff in the United States, many of whom have worked on the Incline. Regular updates on construction progress on The Incline are reported on their website, timberlinelandscaping.com.
Read more in this issue of Colorado Green NOW:
EAB discovered in Lafayette
Awards enhance your professional reputation
Three ALCC members placed on Inc. 5000 list
Silica dust is a serious safety issue