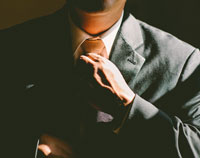 Demonstrating your professionalism is a way to position yourself and your business positively to both colleagues and consumers. Professional organizations like Associated Landscape Contractors of Colorado offer a number of ways to show others that you have knowledge and expertise in the green industry.
Speak
Explore speaking opportunities at ALCC CEO Exchanges or roundtable discussions, educational sessions at ProGreen EXPO, or consumer events like HOA meetings. Find a topic on which you have the most experience, and develop a presentation that you can offer to organizations.
Write
Can't fit a speaking engagement into your schedule? Write about what you know. Trade publications, including Colorado Green NOW, are often looking for content to share in print or online. You can also offer community organizations or HOA clients content to include in their newsletters. If published, you can include it on your resume or professional portfolio. (Got an idea for Colorado Green NOW? Email [email protected].)
Judge
If you have years of industry experience in landscape installation or maintenance, you may qualify to be a judge at hands-on testing for Landscape Industry Technician Certification. ALCC administers the hands-on test in Colorado twice per year. Judging a test problem is both a networking opportunity—you'll meet other test judges from landscape companies across the state—and a marketing tool. Let consumers know that you are qualified to judge those pursuing certification, and they'll understand that you have the experience and skills to do great work.
Be a resource
Journalists and bloggers are often looking for professionals to help them with reporting. You can register yourself with Colorado Public Radio's Public Insight Network so that reporters may contact you when working on a story related to your work, skills, or hobbies. Help a Reporter Out (HARO), allows you to register to receive reporter requests for sources. You'll receive daily emails with requests, and you can respond to reporters with a pitch related to their request.
Train the next generation
By volunteering as a mentor or by speaking to students in the Landscape Career Pathways Program, you can help new employees and business leaders demonstrate the same professionalism and knowledge you possess. Help a new business owner through their first few years, teach a student about the landscape industry, and build your own reputation in the process.
Read more in this issue of Colorado Green NOW:
Drone technology streamlines large projects
Solar eclipse calls for a safety talk with crews
For your consideration: beautiful, low-maintenance perennials
Pansies and violas offer cool-season color