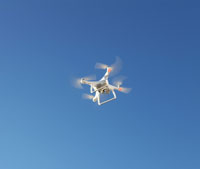 Colorado Total Maintenance (CTM) received The ELITE Award for Innovation for their work on a Washington Park Flower Garden in Denver. They used drones to save hours of work and give more accurate information about the 11.5-acre project.
In order to reconstruct the garden, CTM used aerial drone footage and data from a handheld GPS logger to simply locate and map irrigation components into as-built drawings. Photos taken by the drone helped make meetings with the client more efficient, supplying quick and simple documentation of the job and its progress. Rather than walk the project multiple times to get accurate notes and photos, the team could easily see the project from above and survey the entire location from a bird's-eye view.
Traditionally, a site survey would have been completed by staff, who would walk the entire property to observe and record their findings. For weekly project updates, this could consume hours. Instead, CTM would take footage during a 3-minute aerial drone flight to show at the meeting. Staff could pause the video when needed in order to bring attention to specific issues or accomplishments. Then, meeting attendees could simply walk to the critical areas instead of covering all 11+ acres.
By adding a GPS receiver to the drone technology, CTM was able to locate all of the components of the irrigation system with an accuracy of +/- one foot. This process, called geo-referencing, saved countless man-hours of measuring.
With the use of AutoCAD Civil, CTM used the aerial drone footage as the backdrop layer with the GPS irrigation components to provide a complete, up-to-date as-built of the project.
Lessons learned: drone technology requires a significant (and continual) investment of time and money. CTM lost 3 drones while learning and developing their process. But that investment spurred ideas for getting more use out of the technology. They use geo-referenced photos for progress updates on all job sites. By layering those images on top of Google Earth Pro, they can offer most current imagery. The drone can also take 3D photos, which enhance their presentations tremendously.
Read more in this issue of Colorado Green NOW:
Solar eclipse calls for a safety talk with crews
For your consideration: beautiful, low-maintenance perennials
Pansies and violas offer cool-season color
Demonstrate your professionalism by contributing to your industry