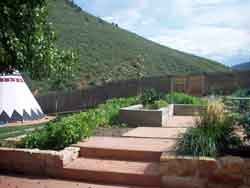 The 2017 ELITE Award for Sustainability was awarded to Bloom Concrete and Landscape for their work on a project known as the Morrison School House. The work is an example of the many elements of sustainability that can go into a landscape.
The single-family residence in Morrison, Colorado is an 1875 school house that was converted into a home with some modern interior and exterior additions. The property began with overgrown trees and weeds and was infested with rattlesnakes. Throughout the major overhaul, the goal was to keep in mind the natural setting and the historic nature of the home while adding a modern twist.
The nature of this house, the location, and the family's busy schedule made sustainability a must. Downspout water was used in the lawn spaces, and drainage from hardscape areas leads into planting beds. Plant were grouped together based on similar water needs. Where appropriate, runoff from veggie gardens is used to keep landscape plants healthy. Rain shut-off devices ensure that irrigation will only run when necessary.
The concept of "reduce, reuse, recycle" was very much in play on this project. Many existing plants were cleaned up so that they could remain in place, while others were transplanted or divided to add more density where needed.
When construction began, sandstone building materials and old school desks & chairs were discovered buried on the property. Bloom repurposed these found resources into the new child- and pet-friendly landscape. This mean bringing in fewer materials for the site, and local quarries were used when outside materials were needed.
See photos of the Morrison School House here.
Read more in this issue of Colorado Green NOW:
CSU research quantifies the value of urban landscapes
Matt Hiner recognized as landscape industry emerging leader
A little landscape water reaps big benefits
Denver requires energy benchmarking for buildings