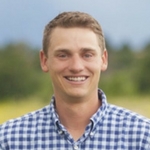 For his work with ALCC and in service to the landscape industry in Colorado, Matt Hiner of Colorado Springs-based Hiner Landscapes was named 2017 Outlook Emerging Leader.
The Outlook Emerging Leader Award recognizes a person less than 40 years old working in landscape or horticulture, who has made a significant contribution to the industry and to ALCC. Since 2006, the award has recognized an up-and-coming member of the association as "one to watch" in the coming years.
Like most of Colorado's landscape professionals, Hiner entered the landscape industry while he was in high school and worked his way up in the field to become the owner of his own landscape company.
After being laid off from his job during the 2008-09 economic downturn, Hiner took his last $300 and developed a logo and printed business cards. He distributed them at a home and garden show, and Hiner Landscapes was launched. The business has grown steadily over the years, and Hiner recently added a retail water gardening store selling supplies and fish. The store also serves as the design center for the landscape business.
Hiner possesses a "pay it forward attitude" by being actively involved in ALCC's Southern Chapter and its Day of Service program in the Colorado Springs area. Day of Service is an annual event, held on or around Earth Day, where chapter members volunteer their time and expertise to improve an outdoor space within the community.
Hiner managed the 2016 Day of Service project at Harrison School District Two, and oversaw the construction of outdoor learning labs (workstations) where students learn basic landscape skills that enable them to begin a career in the landscape industry right out of high school.
The landscape industry gives Hiner a chance to be innovative and creative. "My favorite project of all time was a 400-square-foot back yard where we met the client's entire wish list."
Hiner also serves on the ALCC board of directors. "Matt's work ethic and fresh perspective of are of great value to our industry," said ALCC Executive Director John McMahon.
Read more in this issue of Colorado Green NOW:
A little landscape water reaps big benefits
Denver requires energy benchmarking for buildings
Morrison School House is a model of sustainable practices
CSU research quantifies the value of urban landscapes