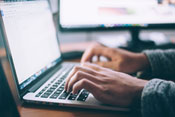 The US Department of Labor's Occupational Safety and Health Administration (OSHA) has proposed a delay in the compliance deadline for a rule regarding electronic reporting of workplace injuries and illnesses.
On June 27, OSHA proposed a delay in the compliance date in order to review the rule further and consider questions of law and policy. The final rule, originally published on May 12, 2016, set a deadline of July 1, 2017 for compliance. The new deadline would be December 1, 2017.
In May, OSHA had indefinitely delayed enforcement of the rule and had not yet opened the online portal to accept submissions of the injury and illness reports. At that time, it also announced that it intended to propose an extension of the deadline.
OSHA invites the public to comment on the proposed deadline extension. Comments may be submitted electronically at www.regulations.gov, the Federal e-Rulemaking Portal, or by mail or facsimile. See the Federal Register notice for details. The deadline for submitting comments is July 13, 2017.
For more information, visit www.osha.gov.
Read more in this issue of Colorado Green NOW:
Garden builds community connections for Terracare Associates
Womochil is ALCC's Person of the Year
Legislative Days on the Hill brings the landscape industry to Capitol Hill
EPA and other agencies move to rescind WOTUS