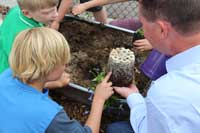 The 2017 ELITE Award for Community Stewardship was awarded to Terracare Associates (TCA), based in Centennial, CO. TCA collaborated with Montclair Elementary to plan, assist with design and build an educational space that will encourage outdoor connections.
Montclair is an underserved and diverse urban school, and many children don't know how fresh vegetables are grown. The learning garden will be an active part of the school's curriculum that provides an immediate connection between urban-living students and the earth. The school community has embraced the garden, which serves an extension of an outdoor classroom. It fits well with Montclair's unique academic focus on bringing learning to life. Students experience a multitude of enrichment experiences directly connected to grade level standards.
The goals of TCA's learning gardens are to:
Improve students' academic engagement and achievement in the outdoors

Increase students' knowledge and enjoyment of fresh fruits and vegetables

Building bridges in the school/community by nurturing teams to create opportunities to work together
According to TCA,"Terracare's core values include an investment to our community. We believe it is our responsibility to give back to the communities where we live and work. There is no better way for a business to be part of the community than to share expertise to help a local nonprofit or school."
TCA's early spring installation of the learning garden included classroom vegetable planters, a melon patch and a horticulture interpretive area adjacent to the outdoor classroom. Work on the project involved excavation and installation of a footpath, planters and extensive irrigation.
Over six months, TCA volunteers contributed expertise and over 300 volunteer hours. In-kind donations of materials and equipment were valued at nearly $22,000 and in-kind materials and equipment. In addition, TCA partnered with their vendors to receive reduced or donated pricing on many of the supplies. Horizon was a large contributor of irrigation parts.
The garden features 32 raised beds, providing each classroom with space to garden. he vegetable garden is entirely the students' space; they will make decisions about what and where to plant, will be responsible for maintaining the space during the school year and will harvest the produce for use in the school. Interpretive information is included throughout the space.
TCA will continue this partnership through ongoing education and expertise throughout the year. It is one project in Terracare's ongoing community service efforts across the country.
Read more in this issue of Colorado Green NOW:
Womochil is ALCC's Person of the Year
Legislative Days on the Hill brings the landscape industry to Capitol Hill
EPA and other agencies move to rescind WOTUS
More OSHA regulation enforcement delayed