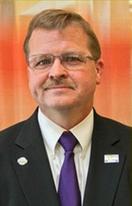 Michael Womochil, Program Director for Agriculture, Energy and Natural Resources with the Colorado Community College System, has been a long-time ally to the Colorado landscape industry. For his leadership in launching and developing the Landscape Career Pathways program, Associated Landscape Contractors of Colorado (ALCC) presented Womochil with the John Garvey Person of the Year Award at the 2017 Awards event.
Created in 1997 and named for its first recipient, John Garvey, CLT, the Garvey Award recognizes an individual who has provided outstanding volunteer service during the past year. The Garvey recipient is someone who always steps up to the plate to help the industry, regardless of the amount of responsibility and effort involved.
Womochil helped ALCC launch its Landscape Career Pathways Program in 2014. The program was created in response to a shortage of skilled workers in the landscape industry. Through a partnership with Colorado Community College System, ALCC offers Career and Technical Education (CTE) teachers hands-on training in basic landscape skills so they can apply these lessons in the classroom. The program provides skills needed for students to be hired directly out of high school and begin upwardly mobile careers. Womochil worked with ALCC volunteers to create four landscape industry career paths and execute the training program.
"Every high school student needs to connect with a career that feeds their passion. This connection with landscape was not happening in our Colorado high schools when we started the Landscape Pathways Program a few years ago," said Womochil. "Now that has changed."
Through the Colorado Community College System, Womochil works with 130 high school teachers in 115 schools to deliver agriculture and horticulture programs to more than 6,000 students annually.
"Through our Landscape Career Pathways Program, ALCC is beginning to reach those 6,000 students thanks to our partnership with the Community College System and Michael. His commitment to bringing educators together with our industry will produce long-term benefits for the landscape industry statewide," said ALCC Executive Director John McMahon.
Read more in this issue of Colorado Green NOW:
Legislative Days on the Hill brings the landscape industry to Capitol Hill
EPA and other agencies move to rescind WOTUS
More OSHA regulation enforcement delayed
Garden builds community connections for Terracare Associates