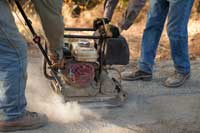 OSHA has issued a Small Entity Compliance Guide for the Respirable Crystalline Silica Standard for Construction. The guide is part of an effort by OSHA to provide more resources to employers in order to comply with the Final Rule to Protect Workers from Exposure to Respirable Crystalline Silica.
The rule was published on March 25, 2016, with compliance required by June 23, 2017. But enforcement of the rule has been delayed until September 23, 2017, so that OSHA can conduct additional outreach and provide educational materials and guidance for employers. The small entity compliance guide is one example of that guidance.
The guide explains the scope of the new safety standard, defines terms, and offers methods of control. It includes a roadmap for compliance and details each entry in Table 1 of the final rule. The details are helpful in clarifying questions that arose when the rule was first published.
The guide provides help with creating a written plan, including a sample plan, and offers record-keeping advice. There are sample medical reports and letters as well.
Employers can find communications tips for training, making employees aware of safety requirements, informing workers about medical care.
Download the guide here.
Read more in this issue of Colorado Green NOW:
Colorado designates a pollinator highway
Safe + Sound Week offers opportunities to focus on safety
Designs by Sundown creates award-winning outdoor room
ALCC members reach the Top 100