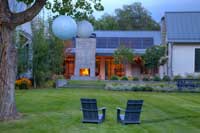 Designs By Sundown took home a 2017 ELITE Award for Design/Build for their work on "Farmhouse Fresh," a residential project in Cherry Hills Village. The home, located just outside Denver, is a combination of both rural and modern influences. The client wanted their space to be useable for both their young family as well as guests—and Designs By Sundown delivered.
The clients, who grew up spending time on the family farm, always wanted to live on a lot of land in a house that feels like a classic farmhouse. But they also have sophisticated, urban taste. Combining those seemingly disparate tastes was a challenge, but Designs By Sundown succeeded, creating a space that allowed the homeowners to entertain large parties, while also allowing an intimate space for small gatherings.
The house is formed in a U-shape, so the designer placed the entire outdoor living space in the central courtyard. The fireplace is positioned on the deck, and with doors that fully open, the backyard became an extension of the home, right next to the kitchen. The U-shape also allows for privacy.
Because the clients have a passion for cooking, a large vegetable garden was also a must-have. But a majority of the landscape was left as open space.
The biggest challenges for this property were grading and drainage as well as preserving the large, mature trees on the property. Placing repurposed wood chips on the root zones of the trees, protective fencing, and temporary irrigation helped the trees survive during construction. Designs By Sundown added over 300 feet of French drain and graded the site slightly towards a newly built retention pond.
Another issue was the time constraint. The homeowners wanted to move in as soon as possible and wanted to have an area for their children to play. With a little ingenuity and some cooperation with neighbors, the project was completed on time. The homeowner also decided they wanted a willow tree—not a recommended tree for Colorado. But the designer made sure to find the healthiest sapling and had a plant health care tech give it special treatments to maximize its best chance for survival. It has now been over a year and a half, and the tree is thriving.
Despite the challenges, the end result is a breathtaking landscape that satisfies the client's every desire while establishing a fluid design aesthetic.
Read more in this issue of Colorado Green NOW:
ALCC members reach the Top 100
OSHA issues silica rule compliance guide
Colorado designates a pollinator highway
Safe + Sound Week offers opportunities to focus on safety