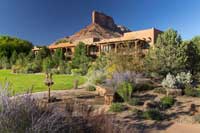 BrightView Landscape Development took home The ELITE Award for Installation/Construction at the 2017 awards ceremony presented by ALCC. They were honored for work on Gateway Canyons, a luxury resort in Western Mesa County.
The award recognizes landscape installation or renovation that exemplifies quality workmanship consistent with industry best management practices. The finalists followed design and related specifications for the project, and satisfied client expectations with the finished product.
The resort, used primarily for business retreats, hired BrightView for general landscape, irrigation and hardscape installation. The owners' objectives were very clear at the start: get it done as quickly as possible and make it look amazing.
The arid climate and remote location were among the many challenges that BrightView overcame to complete the work. Smart irrigation and hydro-zones helped insure sufficient and efficient irrigation for plant life. The plant palette chosen by the landscape architect was difficult to source locally, so BrightView conducted several out-of-state searches to find the product. Once delivered, the product had to be installed and cared for immediately due to the climate shift from its original location. The almost-desert look of the installation results in a stunning display.
Housing logistics were also a challenge. GatewayBrightview worked directly with the ownership group to have staff stay on-site to cut project costs and make it easier on the crews. Allowing and paying for the crews to come home on the weekends made it more attractive to work on the project.
Judges were impressed with the work of the project team, especially the foremen, in overcoming site challenges to complete the work successfully.
"From challenging-to-build hardscape features to complex planting compositions, this project contains many impressive elements," noted one judge. "A well-balanced combination of hardscape and highly performing plant material demonstrate a diverse range of talent on the part of the installer."

Read more in this issue of Colorado Green NOW:
Best management practices for bee health released
Benefits of networking
Volunteers build an outdoor learning lab in ALCC Southern Chapter
ALCC Denver Chapter helps Green Mountain High program grow