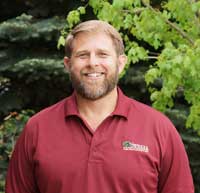 "One of the first things I worked on 25 years ago when I came to Swingle was cost containment," says John Gibson, president of Swingle Lawn & Landscape Care. "We started it because we wanted to continue a culture of safety and to change the behavior of our teams."
While cost containment through the State of Colorado program saves companies 5% on workers' comp premiums, the real savings arise from keeping a safer workplace for crews and individual team members. Swingle's focus is on safety awareness and prevention and they start with a job hazard analysis on their sites before the job starts. They look for potential hazards and ways to reduce risk of injury or incident.
When an injury occurs, Swingle has a 3-step system to evaluate what went wrong and implement lessons learned.
Step 1 – "Freeze-frame" analysis
An incident is analyzed in detail to see what can be learned for future prevention. The crew notifies the supervisor, who reports to the site, meets with the crew, documents the conditions, takes pictures, investigates what happened and talks about first thoughts on how to prevent.
Step 2
The crew attends a safety review where the incident is reviewed by a panel of peers. They provide input on what might have been done differently to prevent the incident. Peer reviewers also provide ideas to leadership on practices/training to prevent future events.
Step 3
Managers study the frequency of incidents by category for the current year, by quarter, compared to the past 3 years. The categories reviewed include these 6 areas:
Personal injuries resulting in doctor visit

First result of personal injury not resulting in doctor visit

Vehicle accident

Property damage

Wrong properties

Spills
What is learned from this analysis can help predict upcoming incidents and the information is shared by the team. "We use this information for visual trending of leading and trailing indicators," says Gibson. Swingle was also recognized last year for its 25 successful years of participation in the Colorado Cost Containment program.
Read more in this issue of Colorado Green NOW:
Is your staff prepared for work site first aid?
ELITE Awards judges choose Bloom Floralscapes for Use of Color award
ALCC honors Bill Cary for lifetime achievement
Kristen Fefes leaves ALCC with a lifetime achievement honor