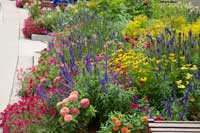 Bloom Floralscapes, Denver, CO, took home The 2017 ELITE Award for Use of Color - Judges' Choice for their work at Aspen Grove Lifestyle Center. The judges' choice category was new for 2017, and reflects a desire to honor exceptional work that the general public might not easily recognize.
Aspen Grove Lifestyle Center is a premier open-air retail center located in the South Denver Metro area. The center experiences high volumes of pedestrian and vehicle traffic daily. In addition to traditional shoppers, the center hosts special events including yoga, farmers markets and outdoor family movie night. The client's goals were water conservation and meeting budget constraints while providing a unique botanic experience for their high-end shopper.
To that end, Bloom installed flower beds featuring 80% xeric perennials and ornamental grasses and 20% annual flowers, creating multi-season color displays. Through the use of water-wise plant material and irrigation updates, water consumption has decreased by 3 million gallons over the past three years.
Judges were impressed by Bloom's excellent use of layering color, beautiful combination of bright and bold colors, and great balance of fine and bold textures.
Management of irrigation programming and property-wide maintenance must accommodate the demanding event schedule of the center. The detailed service required must be accomplished within a very short time frame.
Despite the challenges, Bloom Floralscapes delivered a public landscape that grabs attention and delights shoppers. People actually stop and smell the roses at Aspen Grove.
See more photos of the project at https://goo.gl/photos/tUKaKPUhcsv1HYhw5.
Read more in this issue of Colorado Green NOW:
ALCC honors Bill Cary for lifetime achievement
Kristen Fefes leaves ALCC with a lifetime achievement honor
John Gibson talks about Swingle and safety
Is your staff prepared for work site first aid?