Thursday, April 06, 2017 12:00 AM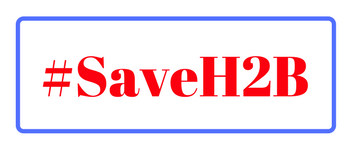 Can't make it to DC for the fly-in? We still need you to participate in H-2B Advocacy Day by doing the following on April 26 (and everyday until then):

1. Call your two Senators and your Representative. Find your Colorado rep on this list
, or you can reach them through the Capitol Switchboard at (202) 225-3121. Once connected to the office, ask to speak to the person to handles H-2B issues and tell him or her how important the H-2B program is to you. Ask them to:
Re-instate the H-2B returning worker for the remainder of

fiscal year 2017 and for fiscal year 2018.

Ask your Senators to cosponsor S. 792, the bipartisan "Save

our Small and Seasonal Businesses Act."

If your elected officials have sponsored H-2B legislation,

written letters in support of the program, or assisted you

with H-2B processing issues, say "thank you" and encourage

them to keep up the fight.
2. Tweet about the need to pass H-2B cap relief. Encourage Congress to act by using #saveH2B and directing tweets at your elected officials.
3. Encourage your employees, co-workers, customers and other local businesses to call and tweet their local officials.