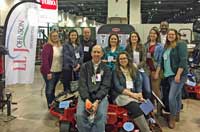 Teacher Day at ProGreen 2017—including lunch with industry pros sponsored by The L.L. Johnson Distributing Co.—gave high school teachers from around the state the chance to preview all that ProGreen provides. The goal: check out ProGreen to see what it might offer their students who are interested in landscape careers. Next year, many say they'll be back and with their students.
"The next week, I applied what I learned from the keynote speaker about the difference between motivation and inspiration to our winter leadership training event for FFA students," said Courtney Mayo, Green Mountain High School instructor. Mayo was one of about a dozen high school teachers who came to ProGreen EXPO in February.
One teacher, Samantha Maxwell, didn't want to wait for 2018 and the next day brought about 15 of her Greeley West High School FFA students to experience the event. Her group of young people in their blue FFA jackets were highly visible on the show floor.
Both teachers and the Greeley students toured the show and interacted with vendors. Among the highlights noted by several teachers was the option shared by Scott Swenson and the ACW Supply team about a strategy to move up the timetable to get a greenhouse on campus.
Some schools are pursuing grants to build greenhouses. They know sorting out building codes, compliance issues, red tape and the engineering process—in addition to substantial fundraising—can take years to complete. Meanwhile, several classes graduate without having access to this horticultural learning lab.
Swenson and his team explained how teachers could build a temporary, hoop-style structure with little time, little effort, minimal expense and almost no red tape. Within four weeks of ProGreen, one teacher had already started erecting the temporary structure on her campus. Permanent greenhouses may still be in the works, but in the meantime, students can be growing plants now and learning horticulture through hands-in-the soil involvement.
Read more in this issue of Colorado Green NOW:
Four strategies to mechanize your jobs
Mature landscapes may need shade-tolerant plants
Immigration enforcement: what does it mean for business owners?
Brian Carlson named to 40 Under Forty in Boulder Valley