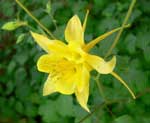 Consumer interest drives trends in landscape. Judging by attendance at the 2017 Landscaping with Colorado Native Plants Conference in Loveland, landscape professionals might consider marketing their use of native plants in Colorado landscapes.
Seminar topics included:
Native plant options for your specific region of Colorado
Basics of design
Propagation of natives
Landscape restoration
The symposium, in its second year, sold out two weeks prior to the event. With a venue capacity of more than 200 people, organizers are now exploring locations that can accommodate a larger crowd for future events. And while a half-day option was available, many attendees chose to stay for a full day of sessions.
Deryn Davidson of CSU Extension, Boulder County, observed that at least two thirds of attendees were homeowners or DIY gardeners.
"People are understanding how their landscape fits into the urban landscape," Davidson noted. She said that there appears to be a growing interest in native plants and plants that require less water. Even among consumers, water is a big issue. A session entitled "Water Conservation and Water Requirements for our Native Plants" was well-attended, signaling a consumer interest in saving water in our drought-prone state.
In one popular session, "Dryer Plants for a New Landscape Era," Kelly Grummons introduced attendees to new, more drought tolerant plants for the Great Plains landscape.
This interest in low-water, native plants in home landscapes seems to point to a growing trend among Colorado consumers.
Read more in this issue of Colorado Green NOW:
Study findings defend landscape water use
What does the green industry contribute to the Colorado economy?
Protect yourself and your employees while on the job
ProGreen EXPO enjoys another successful year