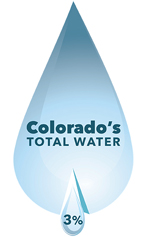 Colorado landscape professionals understand that drought is inevitable in our state. They also understand that when drought occurs, outdoor water use is quickly targeted as the big problem in water waste. But a recent study from Colorado State University quantifies that only 3% of Colorado's water actually waters landscapes and the tremendous ROI that mere 3% brings in terms of economic, environmental and societal benefits.
The return from that 3% pays tangible benefits in terms of property values, quality of life within our communities related to environmental issues, crime reduction and personal safety, health and well-being. Researchers have proven that Colorado communities can and should preserve landscapes in the process of conserving water, and urban landscapes should not be the sole target of water reductions.
The study also provides guidance for water providers, organizations/municipalities property owners about how our landscapes should be managed during times of drought. This can be helpful to those looking to reduce water consumption to comply with the Colorado Water Plan. But it also helps set a realistic goal for conservation. After all, if landscapes only use 3% of the water supply, water use must be reduced elsewhere to reach the water plan goals.
In the past decade, Colorado water users have reduced per capita water consumption by slightly under 20%. Some of these savings have come from improved technologies, tiered rate structures, the use of plants with low water requirements and increasing general awareness among users that they should conserve. As citizens and industry work together to meet the Colorado Water Plan's water conservation goals, the steps we take now will better prepare us for future natural stressors, such as drought, flood, fire and temperature extremes, which will impact the benefits that our landscapes provide to society.
Read more in this issue of Colorado Green NOW:
What does the green industry contribute to the Colorado economy?
Protect yourself and your employees while on the job
ProGreen EXPO enjoys another successful year
Consumers show strong interest in native plant use