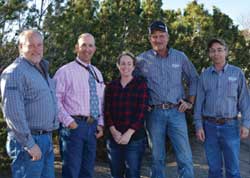 The Irrigation 101 training provided by ALCC for high school teachers January 2016 was a hit with Dave Kranz – a teacher at Falcon High School, near Colorado Springs. "My mind was running 100 miles an hour the whole time I was there," he says.
Soon after loading up his Irrigation System in a Box from that session, he was on the phone with Tim Emick, owner of Timberline Landscaping, Inc. Kranz was determined Falcon would be the first Landscape Career Pathways school in his area. "I just don't want to do this – I want to do it the right way," he says.
Timberline's owner Tim Emick says that call was "Awesome! It was something I've been thinking about for a long time and waiting for. In our schools, we've gotten away from teaching skills." And he means across all the trades.
That conversation united two outdoor-oriented visionaries. After college, Kranz worked cattle and trained colts in Montana. Emick, who grew up in the country 30 miles out of town, firmly believes "not everyone is cut out to spend their days in a cubicle looking at a computer screen."
Emick and Kranz are anxious to get young people outdoors exposing them to an industry where they can find productive careers enabling them to support a family. Says Kranz, "I'm a big fan that you don't need to get heavy student debt to get a college degree only to end up working in an unrelated job and living in your parent's basement." Emick agrees, saying there's too much emphasis that "if you don't go to college, you're a failure."
Last year during spring break, Kranz jumped into a truck with Timberline's John Butters for a ride-along to see firsthand what the industry does. That trip included site visits to a variety of projects and getting into the mud with Butters to help repair a mainline. "Since then," says Kranz, "Tim, Stephanie Early and I, along with a lot of other Timberline employees, are about to embark on what could be the first year-long high school landscaping design, installation and irrigation class in the State of Colorado."
His plan was recently approved by the school board and will begin school year 2017-2018 with 15-20 students including boys and girls "who are taking classes because they are really interested and want to do this." Students in the program will be able to do a work/study program at Timberline during spring break and spend their last two months of spring semester doing internships – mainly irrigation.
Emick supports the irrigation emphasis because it relates to the big picture of the industry's need to manage and conserve Colorado's most precious resource. "The stress over water is tremendous and we need to be better stewards of the environment. Irrigation is the weakest link in our industry."
Kranz says Timberline's help as an industry advisor has been key. "There's no way I could do this by myself."
Read more in this issue of Colorado Green NOW:
Tim Emick gives shout out to work ethic and opportunity
Hunter and Ewing partner to recycle sprinklers
Poll reveals how landscape pros found the industry
ALCC & GreenCO announce 2017 legislative priorities