Colorado Green NOW
Written by Becky Garber
Tuesday, January 24, 2017 02:00 AM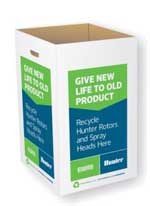 Hunter Industries and Ewing Irrigation & Landscape Supply expanded the 2016 pilot of their new sprinkler recycling program to include Colorado. Hunter and Ewing plan to give old sprinklers a new life and keep them out of landfills.
As more people continue to upgrade their sprinkler systems to more water efficient models, Hunter plastic rotors and spray head sprinklers were collected at selected Ewing locations and will be used by Hunter to manufacture new products. The companies hope to expand the program as they continue their commitments to sustainability.
"Recycling Hunter product is the next step in the greater movement," said Bryce Carnehl, corporate social responsibility manager at Hunter.
Read more in this issue of Colorado Green NOW:
Poll reveals how landscape pros found the industry
ALCC & GreenCO announce 2017 legislative priorities
High School teacher gets on board with landscaping
Tim Emick gives shout out to work ethic and opportunity