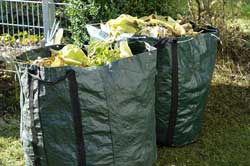 Boulder County recently updated their Hauler Ordinance and Licensing requirements. The updated ordinance (Commercial Waste Hauler Licensing Ordinance 2016-1) now requires any company that "collects, transports or disposes of discarded materials (garbage, recyclables, or compostables, construction and demolition waste, or landscaping materials) in Boulder County" to be licensed as a hauler. Haulers must also track and report their waste using the online software system provided by the County.
More information about the ordinance and about hauler licensing are available at http://www.bouldercounty.org/env/trash/pages/haulerlicense.aspx.
Failure to comply with the ordinance could result in a fine of up to $500 for each separate collection. Annual licensing fees are $50.00 for up to the first three vehicles, and each additional vehicle is $10.00 (i.e., if you operate four vehicles, the cost is $60.00).
Boulder County Resource Conservation Division will host three trainings in the new year for new haulers. Landscape companies are encouraged to attend if they want more guidance on the reporting requirements and the ordinance as a whole.
Tuesday, January 31, 2017 – 7:30 AM to 8:30 AM

Wednesday, February 1, 2017 – Noon to 1 PM

Thursday, February 2, 2017 – 5:00 PM to 6:00 PM
The trainings will be held at the Boulder County Recycling Center in the Education Room at 1901 63rd Street, Boulder, CO 80301.
Landscape companies may contact J. Cody Lillstrom, Zero Waste Program Manager, at any time if they have questions or concerns. He can be reached at 720-564-2757 or [email protected].
Read more in this issue of Colorado Green NOW:
Employees learn to earn at Weisburg Landscape Maintenance
New state law permits employees to inspect personnel file
Wage and benefit changes for 2017
Key things to know about ADA compliance