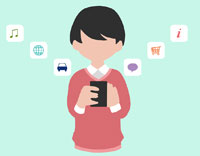 The end of a calendar year is often a time for reflection and a time to set new goals for the next twelve months. For many of us, learning to be more productive and manage our time more efficiently is at the top of our self-improvement to-do list. There's no shortage of articles and apps designed to help you get more out of each day. Here are three resources that we've found helpful:
Pocket
How many times have you gone down a rabbit hole of information on the Web? You read one article, click a link to a related article, and next thing you know you've lost an hour of your workday reading about how to streamline your workday. Pocket is a centralized place to save all of those articles, videos, images, and text that you want to read later or save. You can use it on your phone or tablet or install a browser extension on your desktop. When you see a story you really want to read but you need to focus on the task at hand, simply click "save to Pocket." Later, when you are done working and have time to catch up, simply visit Pocket to access what you have saved.
Highbrow
There are so many things to learn, but it can be difficult to schedule time for classes. Enter Highbrow, which offers short courses via email. Lessons are sent every day for 10 days, in bite-sized chunks you can read in five minutes. You can take a productivity course like "Small habits that yield big results" while you drink your coffee each morning. And if you find that you've signed up for a course but don't have the time to dedicate to it, you can always save it to Pocket from your email account and revisit the course later.
Quick and Dirty Tips
The Get-It-Done Guy is their resident productivity guru, but you can learn something valuable from any of the network's hosts via podcasts, videos, articles, and more. Their mission is to offer "short, actionable advice from friendly and informed authorities that will help you succeed at work and in life." This network of experts dispenses wisdom on everything from parenting and pets to finance and productivity.
Read more in this issue of Colorado Green NOW:
What are your big goals for 2017?
Why Westminster is tapping in to reclaimed water
Greenery is 2017's Color of the Year
Better by nature: How two firms collaborate to cut time, travel and hassle