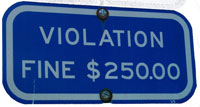 Beginning August 1, penalties for all US Department of Labor (DOL) will increase due to a Congressional mandate that required adjustments for inflation. For some agencies, it was the first adjustment since 1990. As a result, the increases are substantial, leaving businesses with a greater impetus for compliance. Agencies will continue to adjust penalties for inflation each year based on the Consumer Price Index.
Occupational Safety & Health Administration (OSHA)'s maximum penalties, last adjusted in 1990, will increase by 78%. Fines for H-2B violations, last adjusted in 2005, will increase from $10,000 to $11,940.
Small businesses that fear the increased penalties could have a severe impact should they be issued a first time or minor violation. Considerations have been made for this. Because the increase is dramatic, OSHA will continue to provide penalty reductions based on the size of the employer and other factors.
The best way to avoid these penalties is to make sure that your business is in compliance. Take time to review and understand your responsibilities to OSHA, Fair Labor Standards Act, and US Citizen and Immigration Services. Communicate with your employees the importance of following rules set forth by these Department of Labor agencies regarding wages, hours worked, safety, etc.
The new civil penalty amounts are applicable only to civil penalties assessed after Aug. 1, 2016, whose associated violations occurred after Nov. 2, 2015.
Fact sheet on the Inflation Adjustment Act Interim Final Rules
View a chart of the new penalties
This article originally appeared on the ALCC Legislative and Advocacy Blog (LAB).
Read more in this issue of Colorado Green NOW:
Classifying exempt vs. non-exempt employees
The importance of a client walk-through
Preventing back injuries at the work site
Environmental Designs collaborates with Wells Fargo for The ELITE Award for Sustainability