ALCC receives top ASAE honors for its Career Pathways Program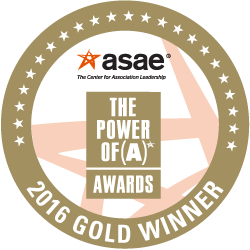 Associated Landscape Contractors of Colorado (ALCC) has earned a 2016 ASAE Power of A Gold Award for its Career Pathways Program, service projects designed to introduce students to careers in horticulture, as well as beautify the community for years to come.
ASAE honored ALCC which worked with the Colorado Community College System to develop a Career Pathways Program to introduce high school students statewide into landscape industry jobs. In addition to beautifying the school campus by installing plant life, new gardens become part of the schools' curricula, as students are acquiring skills necessary for careers immediately after graduation are being made aware of career options if they choose to pursue an industry-related college degree.
"Congratulations to ALCC for its hard work and for helping to make the world a better and more beautiful place," said Sharon J. Swan, FASAE, CAE, Chief Executive Officer of the American Society for Clinical Pharmacology and Therapeutics and chair of the Power of A Awards Judging Committee. "Their initiative exemplifies how associations are a positive force in our everyday lives – not just to the profession or industry they represent, but to society at large."
To date, the ALCC program has reached 2,400 students through three projects: At Green Mountain High School in Lakewood, Colorado, ALCC members renovated beds at the main entrance and created an outdoor learning lab garden. At Walt Clark Middle School in Loveland, a pollinator garden was installed to support students' learning about the importance of butterflies and horticulture. At Sierra High School in Colorado Springs, a land lab for the Career Readiness Academy Construction Class is augmenting its curriculum so students can engage in plant identification, grading and drainage, and paver installation.
"Our program helps young people understand that the green industry offers viable career opportunities that improve everyday lives," said Becky Hammond, ALCC President. "Our members are not just teaching skills, they are training young people to be effective stewards of the environment, learn to conserve water, and understand how to design a space that benefits humans while respecting the ecosystem."
The project also offers a positive environmental impact, as simply seeing nature and plant life can have positive effects on mood and, according to some studies, students' ability to concentrate on lessons. ASAE's Power of A (association) Awards, the industry's highest honor, recognize the association community's valuable contributions on the local, national and global levels. The Power of A Awards reward outstanding accomplishments of associations and industry professionals for their efforts to enrich lives, create a competitive workforce, prepare society for the future, drive innovation and make a better world.
Learn more about the Career Pathways Program.
See photos from the 2016 Day of Service projects, which supported the Career Pathways Program.