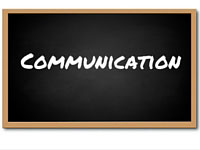 The recent Fair Labor Standards Act (FLSA) final rule regarding overtime has more implications for businesses than payroll. The rule pertaining to white collar workers (including administrative personnel, outside sales, managers), which the Department of Labor released last month, has the potential to greatly impact your employees' morale. Team members may be confused by changes in their compensation and may not understand these changes are the result of government regulation.
While it is important that you, as an employer, evaluate your staff and payroll to determine how to comply with the rule, it is also imperative to communicate with your employees about the rule and its effects to avoid potential misunderstandings and resentment
Be open about the rule
Put a plan in place for explaining the rule to employees impacted by it – this includes managers of those who may be reclassified as non-exempt and those who work closely with those to whom the rule applies. Let your team know that the rules were enacted by the federal government and must be incorporated into company policy about overtime. It is not a punishment placed on your workplace based on any labor-related infractions.
If you don't have a full-time human resources manager, be sure to have someone on staff available to answer questions about exemption status or about reclassification. Be able to explain why certain employees may work overtime and others may not. Make sure that everyone understands how to track their hours worked in order to comply with the new rule.
Communicating with reclassified employees
Help reclassified employees understand what the rule is, why it is in place and that the changes are not a reflection of their work performance. An employee who is reclassified as non-exempt may perceive it as a demotion or a sign that his or her position is no longer a professional one. While you understand why you must carefully track hours worked, employees may resent this change in procedure, thinking you do not trust them or that you have suddenly become more controlling. Assure them that the changes are made to comply with the law and not a reflection on their work performance.
Communicating with employees who receive a salary increase to meet the minimum
Be sure that employees understand why they are getting an increase in salary. Let them know of any additional responsibilities that may be required with them at the new salary level.
Communicating with supervisors and managers of impacted employees
Supervisors and managers should receive training about the rule as well so that they can properly enforce your business's overtime policy and communicate with employees about it. Train them to properly track and monitor employee hours worked and comply with the [new] overtime policy.
Staff should also be on alert for non-exempt employees who try to work outside their regular hours. Let them know that they should not take work calls or check email outside of their work time.
Accentuate the positive
Remember to tell your employees about the purpose behind the overtime rule. It is meant to give them better work/life balance. While tracking hours may seem like a burden, the more structured workplace ensures that they are paid for the hours that they work. If they are not approved for overtime, they enjoy more time for family and leisure.
Learn more about compliance with the DOL overtime final rule at ALCC's webinar on Thursday, June 23.
Read more in this issue of Colorado Green NOW:
Pickens Tech trains for industry jobs
The ELITE Award for Maintenance: Designs By Sundown
Outlook Award recognizes Michael Moore's achievements and potential
OSHA final rule requires employers to submit records electronically