Wednesday, May 18, 2016 12:00 AM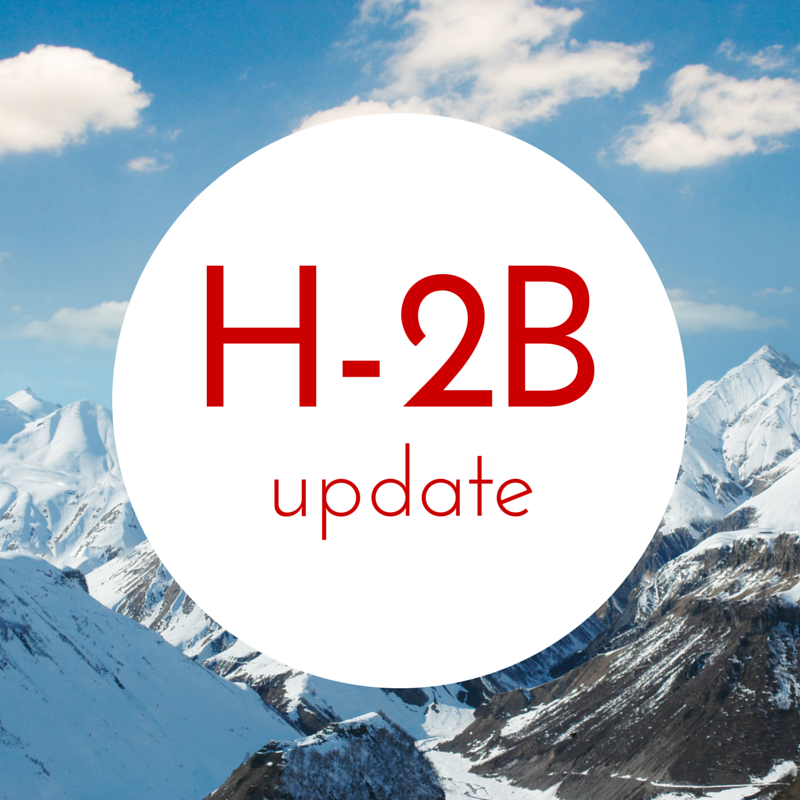 Below is an urgent call-to-action from National Association of Landscape Professionals (NALP)--with additional resources added for Colorado. If you're on Twitter, you can also help by retweeting ALCC (@COGreenNOW). We'll be tweeting our support all day.
Today, landscape professionals from across the country will be in DC to send a strong message to Congress that H-2B is a vitally important program that allows companies to hire seasonal workers and sustain American jobs. If you are coming to the H-2B fly-in today, thank you. Talking points will be provided for you during the 9-10 am briefing in room 325 Russell Senate Office Building.

Can't make it to DC? We still need you to participate in H-2B Advocacy Day by doing the following today:

Call your two Senators and your Representative. [See a contact list here. ] If you do not know their direct numbers, you can reach them through the Capitol Switchboard at (202) 225-3121. Once connected to the office, ask to speak to the person who handles H-2B issues and tell him or her how important the H-2B program is to you. Ask them to:‬‬‬‬

‬‬Renew for fiscal 2017 the H-2B returning worker exemption and regulatory relief that was included in Fiscal 2016 Consolidated Appropriations Act.

Ask your Senators to cosponsor S. 2225, the bipartisan "Save our Small and Seasonal Businesses Act."

‬‬Ask your Representative to cosponsor H.R. 3918, the "Strengthen Employment and Seasonal Opportunities Now (SEASON) Act" and H.R. 2758, the "Seasonal Labor for Job Creators Act."

‪If your elected officials have sponsored H-2B legislation, written letters in support of the program, or assisted you with H-2B processing issues, say "thank you" and encourage them to keep up the fight.

Tweet about the need to renew the H-2B returning worker exemption. Encourage Congress to Act by using #SaveH2B and directing tweets at your elected officials. Please also re-tweet H-2B Workforce Coalition tweets.

Encourage your employees, co-workers, customers and other local businesses to call and tweet their elected officials.

Twitter Tips:

You can find the twitter address for your Senators and Representative at the links below:

If you don't have a Twitter account, you can set one up

at https://twitter.com/signup.

Sample Tweets:

Knowing what to expect is everything in business. Renew the returning worker exemption. #SaveH2B

‬‬Why reinvent the wheel? Renew the returning worker exemption. #SaveH2B

Returning workers sustain American jobs. Renew the returning worker exemption. #SaveH2B‬‬‬‬‬‬‬

‬‬82% of H-2B visa workers are returning workers – proof that they are treated well. #SaveH2B‬‬‬‬‬

The H-2B program relies on workers who come to the US for seasonal employment, then go home. These workers are not immigrants. #SaveH2B‬‬

Dept of Labor regulations and State Workforce Agency oversight ensure that businesses must hire American workers first. #SaveH2B

The H-2B program protects American workers. DOL backlogs are killing small

businesses

though. #SaveH2B

Join the campaign to make the H-2B Visa program work for small American businesses and their customers at www.h2bworkforcecoalition.com #SaveH2B
Get the facts about #H2B Visas. Protecting, creating & sustaining full-time American jobs is smart policy. https://youtu.be/UTYVEirlu3o #SaveH2B

Fact: H-2B workers account for less than 1/10 of 1% of U.S employment. #SaveH2B

Thank you in advance for your support on this vitally important issue. With your help we will send a message in support of H-2B to Congress that resonates through the halls on Capitol Hill!
Best,

Paul T. Mendelsohn
Vice President Government Relations
National Association of Landscape Professionals
Previously on the LAB:
H-2B fly-in May 18th
H-2B update for March 29, 2016
Cap on H-2B visa petitions has been reached for the first half of 2016
Senator Bennet supports employers that use H-2B
VIDEO: H-2B in two minutes
Subscribe to ALCC LAB - Add a feed to your browser so you can keep up with posts on this blog.