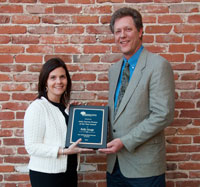 2015 was a very busy year for Kelly Gouge, and his tireless efforts for the green industry in that year did not go unnoticed. He has been recognized as person of the year by Rocky Mountain Turfgrass Association, GreenCO, and most recently by ALCC.
At a March 16th ceremony at Mile High Station, ALCC presented Gouge with the John Garvey Person of the Year Award. As ALCC executive director Kristen Fefes explained, Gouge volunteered more than six hours of his time every week for legislative and advocacy efforts and as president of the organization's board of directors.
"If you do the math, those volunteer hours are the equivalent of losing 12 weeks of productivity from your schedule over 18 months. That's a lot of lost time when you're in a leadership position within a landscape company," Fefes explained. "Fortunately for him, his company [Swingle Tree, Lawn, & Landscape Care] supported him and valued his service to the industry."
Gouge's focus for much of the year was the sunset and reauthorization of the Pesticide Applicator Act in 2015 – the law that regulates how pesticides can be applied and by whom. Several industries came together in a coordinated effort centered on maintaining regulation at the state level, upholding GreenCO's long-standing position that regulation should rest at the state level rather than municipal jurisdiction.
Additionally, he served as president of the ALCC board of directors, leading not just advocacy efforts but also guiding staff as they built the programs and education offered by the organization.
From his perspective, Gouge believes it is a privilege to serve: "The relationships you get to build," he says, "are awesome. The people you get to meet and learning what's going on in their business and in their lives is very fulfilling. Every time I have engaged in industry associations, I have come out a better person."
Gouge and his wife Renae are the proud parents of four children. They enjoy the outdoors together—hunting, fishing, and camping as a way to spend quality time as a family.
For him, the impact of service reaches beyond the industry. He has always felt that forestry and the green industry contribute to society, connecting others with nature much more than the world realizes. This passion for his career has made Gouge a dedicated volunteer and an inspiring leader.
The industry has witnessed Kelly Gouge's selfless service and time-consuming effort on its behalf. With this award and others, the industry is showing their appreciation for those efforts.
Read more in this issue:
Keep using expired Form I-9
Ryan Schuette, manager or life coach?
The people have spoken: Designscapes knows color
Rain barrels to become legal in Colorado