Thursday, November 05, 2015 12:00 AM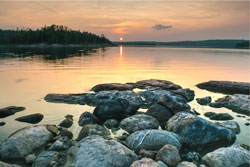 NALP issued the followed update regarding S. 1140 (Federal Water Quality Protection Act):
Thanks to everyone who called and sent letters in support of S.1140. While S. 1140 failed to garner the necessary 60 votes to advance the legislation, the Senate followed up earlier today to pass a Congressional Review Act resolution.

Yesterday's vote on S. 1140 garnered the support of 57 Senators, just three shy of the number needed to stop a filibuster. The bill would have required EPA and the U.S. Army Corps of Engineers to withdraw the WOTUS rule and draft a rule before the end of 2016 in accordance to a specific set of principles.



S. J. Resolution 22, introduced by Senator Joni Ernst (R-IA), proposes to disapprove the WOTUS rule using the authority of the Congressional Review Act (CRA). The CRA is also known as the Small Business Regulatory Enforcement Fairness Act of 1996. It empowers Congress to review, by expedited legislative process, new federal regulations issued by government agencies, and by passage of a joint resolution, to disapprove a regulation. Congress is given 60 legislative days to disapprove, after which the rule will go into effect. For the regulation to be invalidated, the Congressional resolution either must be signed by the President, or must be passed over the President's veto by two-thirds of both Houses of Congress. It only requires 51 votes because it is considered privileged.

The resolution passed by a vote of 53 to 44. Democratic Senator's Donnelly (D-IN), Heitkamp (D-ND) and Manchin (D-WV) joined the Republicans.

The House will need to pass an identical resolution, which is expected, then President Obama will veto the legislation as soon as it reaches his desk.

While the resolution will not become law, the legislative effort of the past two days continues to build pressure on EPA. Last month, the 6th Circuit Court of Appeals issued a nationwide preliminary injunction preventing implementation of the WOTUS rule temporarily. We are hopeful that after the 6th Circuit hears oral arguments on the various legal matters in the case on December 9, the court will vacate the rule, requiring it to be rewritten.

Previously on the LAB:
Clean water rule injunction extended nationwide
What is a WOTUS?

Subscribe to ALCC LAB - Add a feed to your browser so you can keep up with posts on this blog.