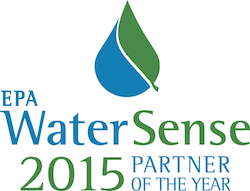 The U.S. Environmental Protection Agency (EPA) recently honored The Toro Company, an ALCC member, with a 2015 WaterSense® Partner of the Year award. Toro was recognized earlier this month for significant contributions in product innovations to improve water efficiency and for its efforts in promoting the WaterSense program in 2014. The company earned the WaterSense Manufacturer Partner of the Year award for its demonstrated commitment to expanding awareness of WaterSense labeled products in 2014.
Its regional sales managers partnered with water agencies throughout their territories to educate end users on the installation and programming of weather-based irrigation controllers and municipal rebates. The company also partnered with the Irrigation Association's regional chapters and other organizations to train and educate contractors and distributors, including John Deere Landscapes, on water efficiency best practices, the availability of WaterSense labeled products, and tips on how to install and use weather-based irrigation controllers to obtain maximum water efficiency.
To further promote water efficiency, The Toro Company featured its WaterSense-labeled weather-based irrigation controllers at 30 national and regional trade shows, expositions, and sales events with exposure to more than 70,000 consumers, contractors, landscape architects, and irrigation professionals. In addition to its outreach, the Toro Company supported WaterSense as it conducted research about soil-moisture based control technologies by developing test criteria for these products.
"Toro is dedicated to water-saving innovation that meets our customers' needs and promotes the efficient use of water," said Phil Burkart, vice president of The Toro Company's Irrigation and Lighting Businesses. "We are proud to have our efforts toward water smart irrigation and outreach recognized by such an important national agency."
Two ALCC affiliate members were also recognized by the WaterSense awards. 2015 WaterSense Excellence Award Winners included Colorado Springs Utilities and Denver Water, who worked to promote the WaterSense program and to encourage consumers to work on better water efficiency.
For more information about WaterSense, visit www.epa.gov/watersense.
Read more in this issue of Colorado Green NOW:
America Recycles Day coming up
Hotel scams target business travelers
IRS requests Social Security numbers for insured dependents
Plant quarantine for Japanese beetles