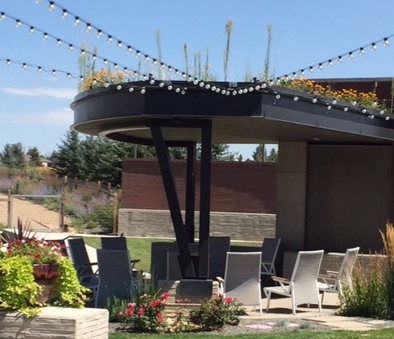 Denver is a trendsetter among US cities when it comes to growing in the sky. The Mile High City placed 6th in the nation, immediately after New York City, in the amount of square footage of green roofs that were installed within its boundaries in 2014.
That's a high ranking if you consider that what many believe to be Denver's first notable green roof was only installed in 2006 atop the Environmental Protection Agency building.
In the past decade, green roofs have experienced double-digit growth nationwide – and Denver is in tune with this movement. One landscape company owner who has been doing green roofs for about 20 years told CG NOW that they have installed 20 green roofs in the metro area in the last two years alone. The previous 18 years saw only four green roofs.
Where will you find them? Head to LoDo and Cherry Creek. Also, check out the REI building, Denver Justice Center and the Anschutz Health & Wellness Center to name a few.
What makes green roofs so attractive? Building owners who install a 5,000 sq. ft, green roof with a deck and a pool know they can charge higher rents with these spaces and tenants are apt to stay longer.
On the environmental side, green roofs help mitigate greenhouse gas emissions, smog and the heat island effect.
Considering that Denver is ranked by the Climate Center as one of the top 3 cities impacted by the urban heat island effect, Denver is in a position to benefit directly by having more green roofs.
For a landscape firm, what's the draw? Green roofs cost $10 to $15 per square foot to install, may need a construction crane at $500/hour and get labor intensive when wheelbarrowing in soil and plants via a freight elevator. Plus, building high in the sky takes you up a new learning curve. To do the job right, you also need to learn new methods for planting and growing and deal with logistics you may never have experienced before.
Given these hurdles, why are more landscape companies heading up on roof? First and foremost, they have the plant and horticultural knowledge that traditional roofing companies do not have. They also know how to irrigate plants. For companies willing to take on the challenge, green roofs bring a new market niche within the urban setting and an opportunity to move landscaping another sustainable step forward via their environmental benefits.
Ever seen a green roof? If not, join the ALCC Sustainable Partner Tour of the Midtown development September 22, 2015 when Eric Schultz (Schultz Industries, Inc.) will lead a tour of a green roof his firm installed. He will share not only about the site, but about the challenges and lessons learned during 20 years of doing green roof installation.
Read more in this issue of Colorado Green NOW:
Was Rodin a model of entrepreneurship?
Building a pay grade scale
Recruiting the next generation to the green industry
Are bionic bugs the secret to defeating EAB?