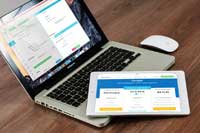 On September 8, 2017, the Legal Workforce Act (HR 3711) was introduced in the House. The bill, if enacted, would require employers to use the E-Verify electronic employment eligibility verification system. The current paper I-9 system would be phased out, though employers may opt to keep paper records in addition to the electronic system.
Some current employees—those with limited work authorization—would also need to be reverified under the new law.
The new rules would preempt state laws that require E-Verify, but states would be allowed to enforce federal rules. The hope is that by allowing states to collect fines for violations, states would be incentivized enforce the federal requirement. Those fines would be increased, and individuals could face fines for knowingly submitting false information into the electronic system. Those who use the system in good faith will be protected from prosecution if they receive an incorrect confirmation of eligibility.
The requirement would be phased in over two years, beginning with the largest employers required to comply within 6 months.
A summary sheet of the bill, created by the House Judiciary Committee, can be found here.
Want to learn more about the E-Verify program? Take a free webinar hosted by USCIS.

Read more in this issue of Colorado Green NOW:
Clearing up confusion about advertising with ProGreen EXPO and Colorado Green
Emerald Isle Landscaping celebrates 40 years
Is the key to employee retention treating them like customers?
ALCC lobbies for H-2B on Capitol Hill