Colorado Green NOW
Written by Cara Doyle
Tuesday, February 07, 2017 05:00 AM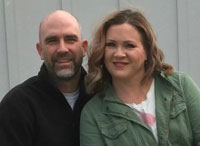 Our business has evolved as hardscape gained credibility. What was once seen as an "eco" or trendy item has in these stronger, post-recession years become a necessity. Canada and Europe have had paving systems in place for hundreds of years and we are finally catching on. Landscape architects now call for ICPI certified installed hardscapes in their designs both residential and commercial. On the commercial level, city ordinances, such as those in Fort Collins, require new construction to be more sustainable and to have a certain percentage of permeable pavers installed to help offset and manage stormwater runoff. These factors also play into our business and the services we offer.
Read more...
Colorado Green NOW

Written by Becky Garber

Tuesday, February 07, 2017 04:00 AM


This was the case with two ALCC members—Don Godi, Donald H. Godi & Associates and Joe DiBlasi, JKJ Lawn Sprinklers. Godi had a very old and distressed garage building on the back of his property. To him, it was an eyesore. But for DiBlasi, it was a treasure trove of wood for his company's off-season craft business turning rustic wood into American and Colorado flags he and his wife sell at summer arts and crafts shows.

Read more...

Colorado Green NOW

Written by Cherie Courtade

Tuesday, February 07, 2017 03:00 AM


It's trade show season in the green industry, which brings opportunities for networking with colleagues. While many would agree that networking is crucial to business success, it can be intimidating. Here are four ways to overcome fear and make your next networking event a worthwhile effort.

Read more...

Tuesday, February 07, 2017 02:30 AM



HB-1061, created by Colorado Motor Carriers Association and sponsored by Reps. J Becker & Melton and Senators Scott & Todd requests a change to the definition of commercial vehicles. It requests to define commercial vehicles at a weight of 16,000 pounds rather than at 10,000 pounds due to the state mandates. Why? In a nutshell:

Read more...

Colorado Green NOW

Written by ALCC

Tuesday, February 07, 2017 01:00 AM


While recreational alcohol and marijuana use by adults is permitted in Colorado, working while impaired is usually not. Get advice on how to handle the situation if you suspect that an employee is impaired at the workplace.

Read more...
<<

first

<

Prev

1

2 3 4 5 6 7 8 9 10 Next > last >>


Page 1 of 58