Colorado Green NOW
Written by Becky Garber
Tuesday, March 21, 2017 05:00 AM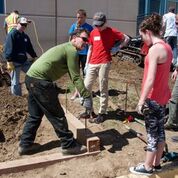 A poll conducted by Associated Landscape Contractors of Colorado in late 2016 revealed some interesting facts about how Colorado professionals found their way into the landscape industry.
Many started in high school
Perhaps the most compelling statistic reveals 58% of respondents had landscape experience in and around high school years. This applies to longtime pros as well as newbies. Only a handful grew up in family landscape businesses.
Read more...
Colorado Green NOW

Written by Becky Garber

Tuesday, March 21, 2017 04:00 AM


After attending the Landscape Career Pathways training for high school teachers March 9-10, Courtney Mayo of Green Mountain High School in Lakewood returned to her classroom inspired to get her students on board with soft skills as much as hands-on skills. Many of her students participated in mock interviews March 21 with ALCC volunteers Lauren Bloom of Bloom Concrete and Landscape and Jessica Moore and Dylan Hicks of Diggable Designs Landscapes.

Read more...

Colorado Green NOW

Written by Cherie Courtade

Tuesday, March 21, 2017 03:00 AM


If you're clear and concise in your document, does your small business really need to have a lawyer review your employee handbook or contracts? A recent court decision has shown us just how important the details can be when drafting an employee document. A dairy in Portland, Maine may be liable for $10M in overtime pay to drivers—because they didn't use a serial comma.

Read more...

Colorado Green NOW

Written by Colorado 811

Tuesday, March 21, 2017 02:00 AM


This April will mark the tenth annual National Safe Digging Month, reminding Colorado residents to always click or call 811 at least three business days before any digging project. National Safe Digging Month is formally recognized by the U.S. House of Representatives and Senate and has traditionally earned the support from nearly every state governor across the country, including Colorado.

Read more...

Colorado Green NOW

Written by Cherie Courtade

Tuesday, March 21, 2017 01:00 AM

GreenCO has issued a position statement on Colorado's pending construction defects legislation.

Background
Colorado's housing market has not kept pace with the demand for affordable homes among first-time homebuyers and others with a modest or fixed income. Rising housing costs and soaring rents are now pricing many Coloradans out of the market. Yet, condos and townhomes, which have always provided a pathway to homeownership for renters, now represent a small fraction of Colorado's housing market.

Read more...
<<

first

<

Prev

1

2 3 4 5 6 7 8 9 10 Next > last >>


Page 1 of 61